STUCCO INSPECTIONS BY
MICHAEL ANGELO MASONRY, LTD.
Welcome to
Stucco Inspections by Michael Angelo Masonry, LTD
Established in 1987 in Bucks County, Pennsylvania, we offer forensic testing of Stucco & Adhered/Manufactured veneer systems, as well as Masonry Consulting, Planning and Project Management.
With over 30 years of custom and historic masonry experience, coupled with Inspection and Instructor certifications achieved with the EPA, Exterior Design Institute (EDI) and GAF, we aim to educate our clients on stucco problems and solutions. With progressive industry education, we continue to keep our clients up-to-date with the latest inspection methods and communication of emerging marketplace trends.
Our certifications include:
EPA National Training Instructor
EPA Certified Contractor/Renovator
PAREX National Certified Stucco Applicator
EDI EIFS Inspector
GAF Certified CARE Inspector
EDI Steep Slope Roof Inspector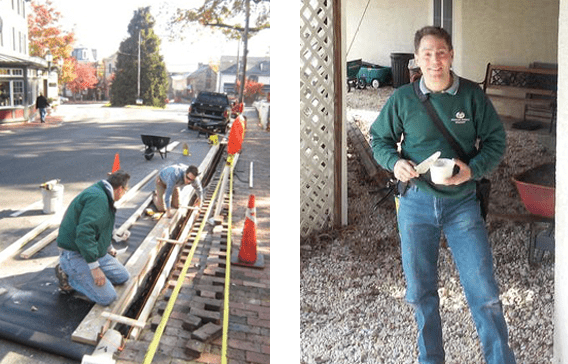 Our customer-centric approach focuses on awareness about Stucco and Adhered veneer wall system problems and solution options. Our goal is to make our clients comfortable by familiarizing them with building terminology often used during inspections to help them better understand the inspection findings.
We aim to provide long-term educational support for homeowners, communities and industry professionals and promote the establishment of preventive maintenance routines.
MICHAEL ANGELO MASONRY, LTD.
About Us
We are Nationally Certified Invasive Stucco & Moisture Intrusion Inspectors performing site evaluations and detailed moisture probe testing services on Stucco and Adhered/Manufactured veneer surfaces to provide Independent conclusive reports for Homeowners, Real Estate Agents, Banks & Consumers.
Professional group training presentations are also available by appointment.
Thank you for considering Michael Angelo Masonry!
Frequently Asked Questions (FAQ'S) About Stucco
GREAT Question!  Conventional stucco is typically a CEMENT based product applied either directly to a masonry "substrate" (concrete, concrete block or stone) or it may be applied to galvanized wire mesh fastened to a wood/composite substrate.  Stucco typically consists of three (3) separate coats
(or layers) of product which requires several days between applications to allow proper drying known as "cure time".  Stucco is porous!   It will show moisture/dampness on surfaces, especially after prolonged rain, and usually dries out in a day or two.  This is why it is important NOT to paint over stucco unless the paint  is  a "perm" rated (breathable) product !
Ironically, Stucco (AND "Adhered/Manufactured" veneers) can also be classified under the "umbrella" of EIFS (Exterior Insulation & Finish System), as it IS a type of Exterior system. Yet, most professionals and novices too, tend to categorize EIFS as the "Synthetic" stucco, referencing a SYSTEM where dense Polystyrene foam is fastened to the building "substrate" and a pre-blended (Engineered) mixture of Cement AND Acrylic Polymers are then applied to the wall, similar to that of a traditional stucco application.
NO home is truly "maintenance free"... therefore, ALL STUCCO/EIFS finishes need to be properly maintained by performing routine annual inspections to ensure no moisture or extensive cracking has occurred.  In the event such issues arise, proactively repairing the areas will considerably reduce the potential for moisture penetration and ensure the finish of your home for years to come.
Stucco finishes have long been an accepted building product for decades.
Done properly, stucco provides a durable finish while offering a variety of Classic and Contemporary appearances.  Like everything else, as technology advances so do products and their successes (and sometimes...failures !).  An example of this is where some more recent applications of Cement based Stucco (as well as those of acrylic finishes ) over newer types of wood particle board, along with the introduction of "housewrap" barriers, have developed unforeseen situations where the "vapor transfer" is inadequate, resulting in moisture being retained within the walls.
The good news is that the cause of these issues has been identified and new standards have been adopted. Selecting a CERTIFIED Inspector is KEY during your home purchasing phase, not ONLY to identify potential issues but to offer suggestions for possible REMEDIES and SOLUTIONS for all parties involved!
Initial knowledge of Stucco/EIFS issues appeared to be limited to certain regional areas (coastal/humid communities) beginning in the late 1990's. Unless there was specific, visible evidence of damage observed, most Real Estate Firms and Banks were not aware of the progressing situation.  A telltale sign of increasing awareness of  issues with this type of "cladding system" was the introduction of the term "EIFS" in some Agreements of Sale. Eventually, as more information came to light, many Listing Contracts and Offers to Purchase were being written with specific language identifying the exterior finish as "Cement based Stucco or EIFS".
In 2002, as the level of occurrences escalated, several of the National Building Code Organizations (IBC/IRC) began to address this obviously growing problem and consulted with Material Manufacturers, Forensic Laboratories (ASTM, et al.) and Contractor Trade Guilds to begin the process of developing a NEW standard, not just for the application of Stucco/EIFS systems, but a COLLECTIVE effort to educate and manage the manufacturing and installation processes of Window/Door/Roofing and Gutter products as they ALL encounter "penetration" areas (openings in walls/roofs) where the likelihood of water entry can occur. Additional preventative products were developed ( i.e. Drainage Planes, Kick Out flashings and Casing Beads to name a few) to enhance the systems OVERALL performance and minimize future water penetration in the "building envelope".
RECOMMENDATIONS
Regardless of the "years of experience" which many Contractors quickly offer as their competitive edge,  it is best to seek advice from an experienced professional COUPLED with their resume' of continuous, progressive education in achieving the BEST and most up to date industry standards and Certifications.
For this reason, you will note there are very few Qualified, Nationally Certified Invasive Stucco Inspectors as  New Installation Protocols, Authorized Training Institutes and their Curriculum have only recently been developed within the past 6 years.
Be sure to consult ONLY with those professionals who provide these credentials.
Call us at 215-378-2056 or Email us at [email protected] to schedule your evaluation !